Sichuan YR Attended Special Training on Developing Overseas Market
2018-08-24 06:00
Company News
On August 23rd,Sichuan YR attended a special training on developing overseas market which is held by Sichuan Import and Export Chamber of Commerce to deal with the potential risk of Enterprises'Foreign Trade Business influenced by Sino-US trade friction these days .
At the meeting,Mr. Peng, the deputy director of the foreign trade department of Chengdu Commerce Commission,estimated that more than 1000 enterprises would be influenced by Sino-US trade friction. He pointed out that, at the critical moment, timely adjusting market directions and actively participating the international exhibitions on the basis of fully understanding the good policies of Chengdu were the recommended solutions.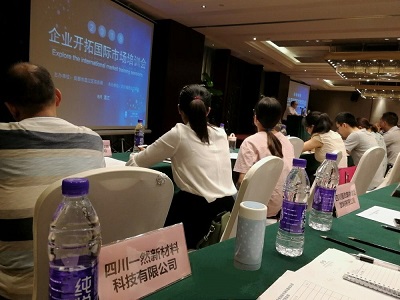 Mrs. Wang, the secretary general of Sichuan Import and Export Chamber of Commerce, provided the participants some ways of choosing valuable international exhibitions . Besides, the professionals from China Export& Credit Insurance Corporation and the Agricultural Bank of China also shared their opinions of dealing with such emergencies.
The government has issued many favorable policies to promote the development of foreign trade business.As long as we follow the national policy and participate in the exhibitions reasonably, it's easy for us to develop overseas market well.